Rock Garden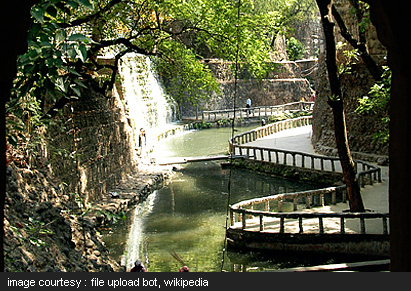 Weekly Off

:

Monday


Time to See

:

2:0 hrs

To

3:0 hrs


Enjoyed By

:

All
Mode of Payment :

Cash ;

Currency :

Rs
Introduction
The astonishing Rock Garden of Chandigarh is located in Sector 1, near the Sukhna Lake. Spread over an area of 40 acres, it is a testament to artistic brilliance achieved from items one might consider crash. For this stunning amalgamation of courtyards, sculptures, pathways, and mosaics is made entirely of industrial and residential waste and junk. An iconic attraction in Chandigarh, the Rock Garden is a interesting study of art and imagination.

There is a very interesting story behind the origin of the garden. Nek Chand, a government official started the garden as a pet project, secretly and without the knowledge of local authorities in the year 1957. A self-taught artist, he collected different rocks resembling various living things and abstract shapes during his leisure time. Soon his collection of rocks reached an astounding figure of 12,000. The authorities discovered the garden in 1975 which by this time had already grown into a 12-acre (49,000 m2) complex of interlinked courtyards, each filled with hundreds of concrete sculptures of dancers, musicians, and animals. The authorities took over, and it was inaugurated as a public space in 1976.

Designed to look like a lost kingdom, it has low arches and doorways made from discarded bags of cement, walled pathways leading to large mosaic courtyards, deep gorges, steps, waterfalls, porches and buildings. Discarded tube lights, rusting oil drums, broken tiles, shattered china and sanitary ware, glass bangles, unused building material, burnt bricks, electrical fittings and wires, caps from bottles, bicycle handlebars, and other scrap are given magnificent shapes. It seems as if they are made out of fine raw materials.

The Rock Garden follows the theme of the creation of earth chronologically. In the first phase, there are a few natural forms and some minor landscape modifications. In the second phase there are open courtyards, pathways decorated with sculptures, complete with the king's and queen's chamber. There is also a large waterfall, a canal, an open-air theatre and a miniature village. These architectural spaces have become an interactive space, where plays, dance and music performances are held. In the third and the final phase, life sized animal figures are made out of waste.
Special Attributes
A garden made out of industrial and home waste.
Nuisance
A popular attraction, the Rock Garden tends to attract large crowds.
Dressing restrictions
Dress in whatever you find comfortable.
Connectivity
On foot, cab, bus, autorickshaw
Enjoyed by
All
Exposure
Substantial. Wear a cap, sunglasses, and carry a bottle of drinking water
Avoidable Season
Open through the year
Facilities
Basic, prepare accordingly.
Things Not Allowed
No such restrictions.
Tip
Carry drinking water, and aviod carrying too much of ready cash.
Type of site
Garden