Shiv Khori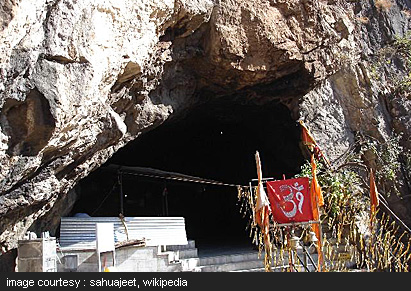 Weekly Off

:

—


Time to See

:

45 minutes

To

2:0 hrs


Enjoyed By

:

Families, Senior Citizens, Shiv devotees
Mode of Payment :

Cash ;

Currency :

Rs
Introduction
The route from Jammu to Katra is full of picturesque vistas, of green mountains topped with white snow, deep valleys and gushing waterfalls. Many of these mountains are surrounded by caves that are as old as the mountains themselves and ripe with legends of gods and goddesses, especially Lord Shiva and his wife Parvati.

One such wonder is Shiv Khori, a kilometer long cave which houses a 4-feet high naturally formed Shivaling. Shaped like the Lord's own damaroo, the cave is wide at the ends and narrow in the center. Local legend says it actually connects to the larger Shivaling at Amarnath, but that cannot be confirmed as modern pilgrims are allowed no more than 135 meters (442.9 feet) inside the cave.

Of the many natural divinities inside the main chamber of the cave is the continuous flow of water that drips on to the Shivaling and bathes Lord Shiva's form as the Goddess Ganga is said to in myths. The cave is also home to several other naturally formed embodiments of various Hindu deities. Just above the Shivaling is a cow-like impression which signifies the Kamdhenu. Visitors can even spot the image of Goddess Parvati adjacent to the Shivaling. Other deities who find representation are Kartikeya,Ganesh, Ram, Lakshman, Sita, Hanuman, and the Sheshnaga.

The religious wonders of Shiv Khori can only be believed if glimpsed by one's own self. To be present in that wondrous cave, surrounded by images of the most revered gods and goddesses that probably predate the surrounding civilization is a spiritual experience. The peace and quiet of the cave calm even the most frantic mind. A visit is very highly recommended for Shiva disciples and even the more casual believers who can visit only to savor the natural beauty of the site.
Special Attributes
A cave of great religious significance that houses a naturally formed 4-feet high Shivaling
Nuisance
The site is very peaceful and free of irritants.
Dressing restrictions
Proper attire must be maintained in the premises of the temple. Revealing clothes should not be worn. Ladies should also look at covering their heads by a 'dupatta'
Connectivity
Buses and light vehicles up to Ransoo, from where you will have to travel by foot for about 3 kilometers (1.8 miles).
Enjoyed by
Families, Senior Citizens, Shiv devotees
Exposure
Exposure will be negligible as you will be mostly indoors.
Avoidable Season
Monsoon season can be avoided as a cold weather coupled with rains add to the discomfort of the trip.
Facilities
Basic, plan accordingly
Things Not Allowed
You will need to take prior permission to take a camera.
Tip
The walks can be strenuous, so travel light. Do take the time to pause and take in the scenic surroundings. If you are make any donations, remember to ask for receipts.
Type of site
Temple