Thazhathangady Juma Masjid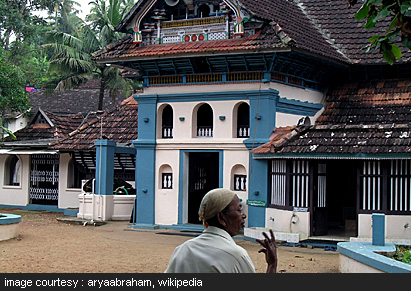 Weekly Off

:

—


Time to See

:

30 minutes

To

45 minutes


Enjoyed By

:

Families, Backpackers, Senior Citizens
Mode of Payment :

Cash ;

Currency :

Rs
Introduction
About 16 kilometers (10 miles) from Kumarakom in the town of Kottayam is the 1000-year-old Thazhathangady Juma Masjid, nestled on the banks of Meenachil River. One of the oldest mosques in the country, Thazhathangady Juma Masjid is notable for its magnificent architecture and the richness in wood carvings that adorn the interiors. The mosque is a result of the efforts of the followers of the Islamic Prophet Mohammed during one of their voyages to Kerala.

About 2 kilometers from Kottayam city centre, Juma Masjid is en route to Kumarakom. While browsing this ancient mosque, take time out to appreciate its interiors which display an excellence in wood crafting. Popularly known as 'Taj Juma Masjid', the ancestors of this masjid came and settled in Kottayam from different parts of Kerala. After moving into the town, they started living as a community in the Hanafi Tradition from 1947 onwards under the spiritual guidance of Kottayam Settu Masjid. During that time cremations used to be done in the cemetery of this mosque. And the Muslims living here played an active role in the Indian Freedom Struggle.

Later, the Masjid was dedicated to the Muslim community by the first President of the Jama-Athe Haji Abdul Karim Sahib. Alhaj P.P.Ahmed Alim Sahib served as the Imam from 1964 till his death in 1993. Even after so many years, visitors flock the site to marvel at its brilliant façade and the lavish wood carvings on the inside. The masjid is well-maintained and its surroundings are clean and sparkling. And it looks particularly beautiful on a full moon night.
Special Attributes
One of the oldest in the country, the mosque is renowned for its architecture and the richness in wood carvings on the interior.
Nuisance
The site is very peaceful and free of irritants.
Dressing restrictions
Dress appropriately, wear fully covered clothes as it is a religious site. You will have to cover your head with a handkerchief or bandana, and take off your sneakers before entering the mosque.
Connectivity
You can hire an auto-rickshaw from Kottayam city centre.
Enjoyed by
Families, Backpackers, Senior Citizens
Exposure
You will mostly be indoors within the mosque.
Avoidable Season
Open through the year
Facilities
The mosque is en route to Kumarakom from Kottayam.
Things Not Allowed
No such restriction.
Tip
Maintain absolute silence once inside, and turn your phone to silent mode.
Type of site
A 1000-year-old mosque