Nizamuddin Auliya Dargah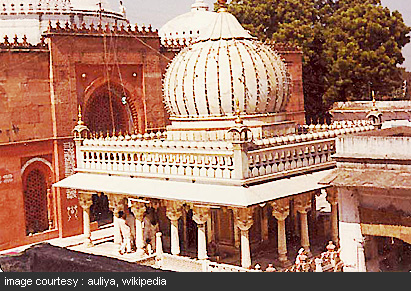 Weekly Off

:

—


Time to See

:

60 minutes

To

2:0 hrs


Enjoyed By

:

Families, Backpackers
Mode of Payment :

Cash ;

Currency :

Rs
Introduction
The dargah (mosque) of Nizamuddin Auliya, a revered Sufi saint, can be reached from New Delhi's Mathura Road. Further on, take the diversion near Nizamuddin into a narrow meandering lane which leads you to a labyrinthine network of alleys that have a distinctly medieval setting. Wade through crowds of beggars, small shops selling kebabs and other Mughlai delicacies, street vendors, and hawkers hawking caps, religious posters, and rosary. Along the way, two landmarks worth taking note are the popular Mughlai restaurant 'Dastarkhwan-e-Kareem' and Ghalib Academy built to pay tribute to the illustrious 19th century Urdu poet Mirza Ghalib.

The road further narrows before you enter the dargah premises. Here too you will be dodged by flower sellers and other hawkers persuading you to buy flowers, sweets and cloth to offer at the shrine of Nizamuddin Auliya. Before stepping in, take your shoes off and cover your head with a handkerchief or the likes. You will pass a medieval archway and enter a lavish courtyard that faces the tomb of Sufi poet Amir Khusrau, beautifully illuminated if you are visiting near dusk. Out of the alms offered by devotees, the dargah runs a daily community meal for the poor. Built by Mohammed Tughlaq in the 16th century, the mosque houses the tombs Jahanara, the daughter of Mughal Emperor Shahjahan, Urdu poet Mirza Ghalib, besides that of Hazrat Nizamuddin Auliya and Amir Khusrau.

Spend time meditating in silence, soaking up the unique ambience and finding out the popular legend behind the building of the dargah. Though, after its initial construction, the dargah went through several rounds of revamping. The place gets exceptionally busy during Id and the Urs fairs held twice a year. You will see intricate jaalis (latticed screens) surrounding the small hall with a tall tombstone built in 1496 by Mehdi Khwaja, a courtier of Emperor Babar. There are many interesting anecdotes and layers of history associated with this jaali - if you can take time to find that out. What remains of it today are thick coats of whitewash and paint, and colorful threads tied around it by worshippers. You will see men sitting around reading the Quran or praying in peace.

There is an ancient room opposite the opening of Amir Khusrau's shrine, where Sufi singers with their soulful renditions enliven the atmosphere at sundown after the evening prayers (especially on Thursdays and feast days). The wall just outside this room has a calligraphed poem eulogizing Nizamuddin Auliya, composed by Urdu poet Allama Iqbal. A visit to the dargah of Nizamuddin Auliya shows you a very different side of Delhi. Here, time stands still, medieval walls echo the glory of a bygone era, and every evening mystics transport you to a world of spiritual bliss. Shrouded by a flyover, a five-star hotel, a police station and residential quarters, the dargah of Nizamuddin Auliya is truly a hidden treasure in the fast urbanizing metro of Delhi.
Special Attributes
There is an ancient room opposite the opening of Amir Khusrau's shrine, where Sufi singers with their soulful renditions enliven the atmosphere at sundown after the evening prayers.
Nuisance
Beggars, pick pockets, hawkers, and touts
Dressing restrictions
Wear fully covered clothes; carry a scarf to cover your head inside the dargah.
Connectivity
Interstate bus, train, metro-rail, taxi or auto-rickshaw
Enjoyed by
Families, Backpackers
Exposure
You will be mostly indoors, barefoot. There is an open courtyard where you can enjoy a qawwali performance in the evening.
Avoidable Season
June, July, August
Facilities
Basic, plan accordingly
Things Not Allowed
No such restriction.
Tip
You are expected to do some charity at the dargah, such as donating money to the poor, the shoe-minder etc. Once inside, turn your mobile phone off or switch it to silent mode.
Type of site
A 16th century mosque and the shrine of revered Sufi saint, Hazrat Nizamuddin Auliya.